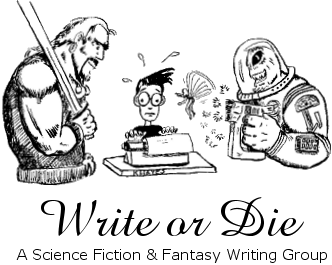 Write or Die (WorD) is a Pittsburgh science fiction and fantasy writing and critiquing group. Established in 1996, it has been steadily growing since then. WorD is free and open to the public, and meetings are held every other Tuesday night from 6:45 - 9:00 PM in the first floor Conference Room of the Monroeville Public Library, Monroeville, PA 15146 USA. Our meeting schedule can be found here. We also hold two writing retreats every year, one in the Spring and a second one in the Fall. Details on the retreats can be found here.

Our members are fantasy, science fiction and horror writers whose skills and experience run from the unpublished part-time writer to professional authors published in multiple genres; some of our members write occasionally, and some do it every day. But they all have one goal: to get their work published and see their name in print.

We are primarily a Critique Group, which means that we gather every two weeks to review each others' work critically; that is to say, to tell you as a fellow writer if your story is good enough to go to market--and if it is not, we will point out is wrong with it. We are NOT a writing workshop; we will not take a newbie by the hand and walk you through How-to-be-a-Writer. If that is what you are looking for, we suggest you consider the Clarion Science Fiction & Fantasy Workshop. They have an excellent program.

For more information on who we are and what we do, try the links below, or send us an e-mail.
---
Website Designed by Kassandra Siegel
Group created Diane Turnshek
Background by Eos Development, Art by Kevin Hayes
Hosted by PittsburghFree.Net